Our main product is hand-woven carpet. Next is variatons as sheets, decorations for the wall, pillows, WC-cushion etc...
METHOD MAKING
We follow the classic method of carpet hand-weaving on a weaving loom. While making the carpet we use "rims", that arise in textile making. By processing them we contribute to the purity of the environment.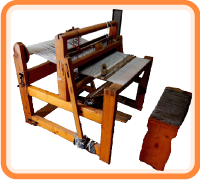 CARPET DIMENSIONS
We offer these options..
CARPET WIDTH :
0,35m ; 0,50m
0,70m ; 0,90m
1,20m ; 1,50m


MANUFACTURER - HAND WOVEN CARPETS
HAND WOVEN CARPETS ON THE CLASSIC WOOD LOOM